Royal Caribbean's "Allure of the Seas"
The World's Largest Cruise Ship Class in the World - FOUR Football Fields Long - 9,000 People

AQUATHEATER - An outdoor theater (water shows like Cirque Du Solei "O") + Movies, Concerts
MAMMA MIA!
Check out this Broadway Musical at sea. You will amazed to see this type of quality show at sea.
BLUE PLANET
Chef Jamie Oliver presents a menu of rustic Italian favorites, handmade with fresh, seasonal ingredients.
OCEANARIA - HIGH FLYING - DECK DEFYING
This Aqua Theater production amazes with more high-flying feats, stunts, and acrobatics than ever before.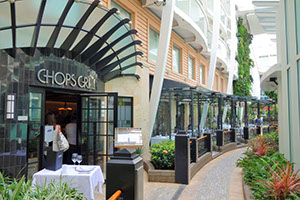 CHOPS GRILLE
Hand cut, quality steaks at our signature New American steakhouse, Chops Grille.
ROYAL THEATER
The state of the art theater features award winning Broadway-style theater productions and aerial acts, as well as headliner acts.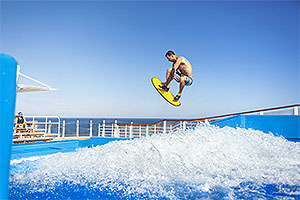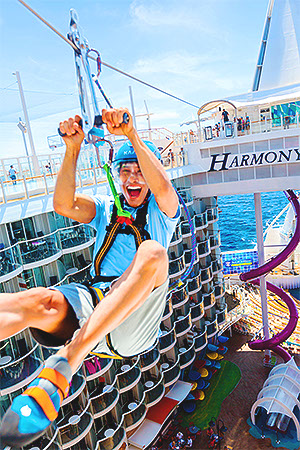 ZIP LINE
Fly from one end of the Boardwalk to the other on a zip line suspended nine decks in the air.
An amazing one-of-a-kind view and a thrilling one-of-a-kind experience.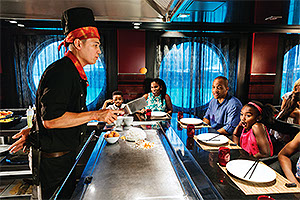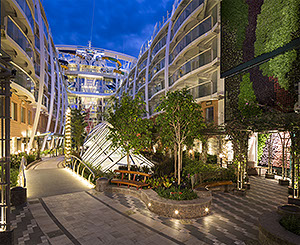 CENTRAL PARK
A tranquil public space for relaxing, fabulous shopping, fine-dining, and for just strolling around. Over 12,000 living plants and trees, open to the sky.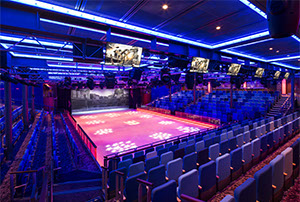 STUDIO B
A multipurpose studio complex filled with activity all day long. In the evenings catch our ice shows featuring professional ice skaters from around the world.
FLOWRIDERS
Hang ten on FlowRider, a 40-foot-long surf simulator, or cheer on friends from stadium seating with prime wipeout views. Surf's up!
IZUMI - Hibachi & Sushi
Tempt your palate with delicious cuisine from the Far East. Delicious sushi rolls, rice dishes, noodle bowls, and more.

POOL DECK & MORE
4 swimming pools and 10 hot tubs, including two hot tubs cantilevered over the edge of the ship and 2 Flowrider surf simulators & Aqua Theater
Play a game of mini golf to the left, or a game of basketball to the right or just zip line over the middle, above a merry-go-round at sea.
Johnny Rockets
Step into our '50s diner, which features red booths, Formica counters, a jukebox, burgers, fries and the best old-fashioned malted milk shakes.
Vintages
Enjoy a glass of your favorite vino, participate in a wine tasting or sample something new from our world-class cellar.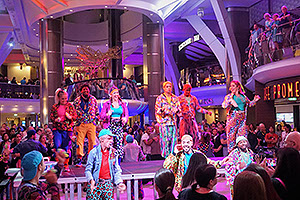 DANCE PARADE PARTY
The dance party in the Royal Promenade is a show you can not miss. Filled with fun, energy and excitement, this is a group favorite.
STARBUCKS
Whether it's a morning cup of coffee, a decadent Caramel Macchiato, a refreshing Frappuccino Blended Beverage, or a tempting pastry, guests can enjoy all their favorite Starbucks treats right onboard.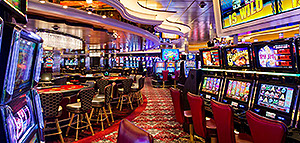 LARGEST CASINO AT SEA
Casino Royale is part Vegas, part Monte Carlo and a whole lot of fun. Enjoy a variety of slot machines, video poker and extensive table games ranging from blackjack to craps and roulette. Plus, complimentary gaming lessons and exciting tournaments!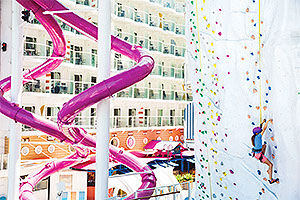 ROCK CLIMBING WALLS
There are two rock-climbing walls, each 43 feet high. Can you get to the top and ring the bell?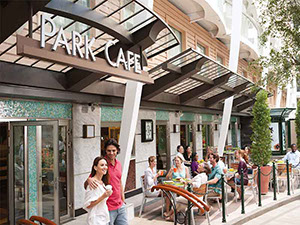 Park Café
A casual-dining, walk-up, gourmet market with something for everyone. Awesome salad bar and this is the place to get the famous fresh-carved roast beef sandwich.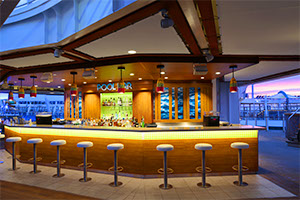 POOL BAR
Grab a drink at the pool bar, overlooking 4 different swimming pools, under the hot caribbean sun.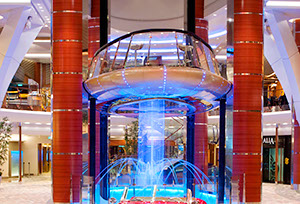 RISING TIDE BAR
The first-ever moving bar at sea, which ascends and descends over three decks. You have to see it to believe it.
Windjammer Marketplace
This seaside café offers buffet-style breakfasts and lunches. In the evenings, the café's casual atmosphere is complemented by a changing menu and restaurant-style service. TONS of options: Salad Bar, Soups, Pasta, Carved Meats, Grill, Asian, Caribbean, Indian, American, German, Fruits, Pastries, Desserts, Drinks and more....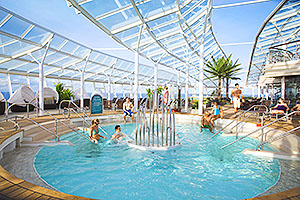 SOLARIUM
Sit in one of the cantilevered whirlpools in this tranquil, adults-only space with 3 decks of glass.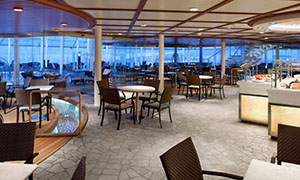 Solarium Bistro
During the day enjoy a classic bistro plate with a loved one or bring the family to this delicious dining experience that has something for everyone.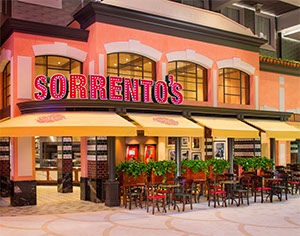 SORRENTO'S PIZZERA
Grab a specialty pie for the whole family, a Cheese & Pepperoni slice for the road, or choose from many Italian favorites from Sorrento's menu. There's something for everyone.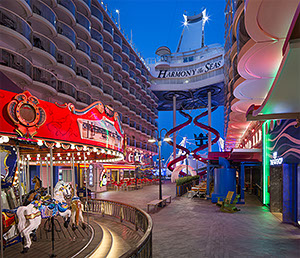 BOARDWALK
Dedicated to family, fun and nostalgia, this neighborhood offers enough games, amusement and attractions to keep everyone entertained. Make sure to take a ride on the Merry-Go-Round at sea!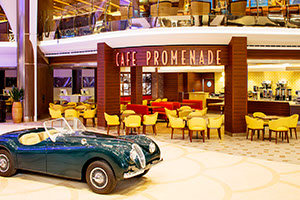 CAFE PROMENADE
This café on the Royal Promenade offers specialty coffees, snacks and pastries in the morning and sandwiches and cookies throughout the day and night.

KIDS - ADVENTURE OCEAN - KIDS AVENUE
A central boulevard connecting children with dedicated spaces for our Award-winning Adventure Ocean program and various themed play areas.
Royal Babies and Tots Nursery, Workshop, Imagination Studio, Adventure Science Lab, Adventure Ocean Theater, Two Arcades, Card Room and more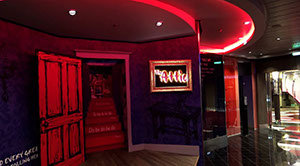 The Attic
Family shows, late-night adult comedy and guest entertainers.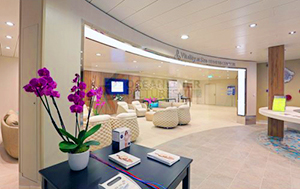 Vitality at Sea Spa
Emerge renewed, relaxed and rejuvenated at our full-service spa offering a beauty salon and spa treatments, including massages, facials manicures and a Medi-Spa.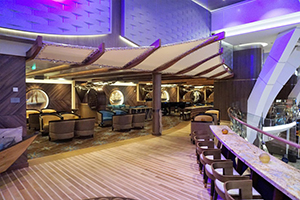 Schooner Bar
This nautically themed bar is the perfect spot to enjoy a drink with friends.
On Air Club
Grab a mic, a few friends, and bring your voice to the hottest onboard karaoke bar in the Royal Promenade.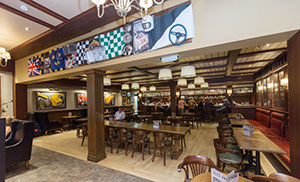 ENGLISH Pub
An authentic English pub offering a great meeting place for pints, people, performances, and more.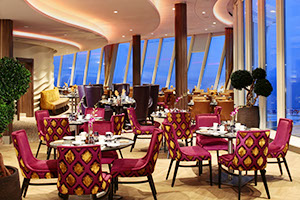 Coastal Kitchen
Exclusively for guests in Grand Suites and above as well as Pinnacle members, a fresh new fusion of California cool and Med-inspired taste.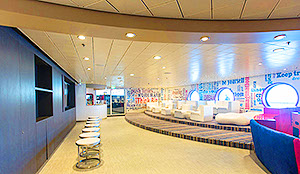 The Living Room
A laid-back place for teens to hang out with new friends.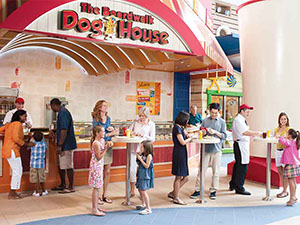 Boardwalk Dog House
Take a seat at the counter for traditional hot dogs, brats, sausages and other delicious linked meats, plus a variety of toppings to split a long bun.
Dazzles
A 2-story music & dancing lounge.
That is just SOME of what this ship has to offer... There is no other cruise that offers this much food, entertainment and wow!
GIOVANNI'S ITALIAN
A casual Italian trattoria with indoor and al fresco seating, Giovanni's Table offers rustic dishes with a contemporary flair, including fresh pastas, braised meat dishes and stews.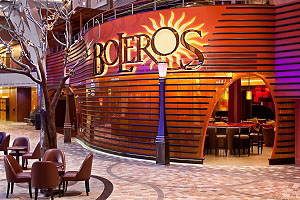 Boleros Lounge
Follow the Latin beat and find yourself in a nighttime hot spot where you can keep up with live music and cool down with a mojito or caipirinha.
Fuel TEEN CLUB
Open 'til 2 a.m., teens can dance, listen to music, or just hang out.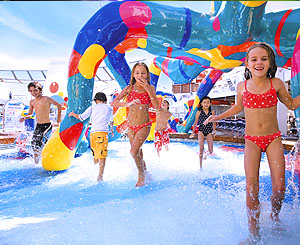 H2O ZONE WATER PARK
Ready, aim, soak! Introducing Royal Caribbean's biggest splash park yet, with slides, water cannons and waterfalls. And when the drench bucket fills up, everyone comes running. Relax in the Lazy River. Pools for tots and kids. Fun!
Art Gallery
Original artwork to view, browse, admire, and enjoy. Pop in to find something to take home, or to simply inspire the soul.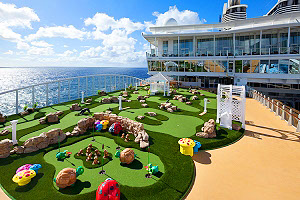 Harmony Dunes
Come test your golf skills at our challenging miniature golf course that will entertain adults and children alike.
CHAMPAGNE BAR
Two robots; each one has its own name, can muddle, stir, shake and strain all types of drinks; the cocktail combinations are endless, with
30 spirits and 21 mixers from which to choose.
Jazz on 4
Live jazz and blues performances in an intimate atmosphere.
DREAMWORKS
Discover memorable moments at sea filled with your favorite characters from Shrek, Madagascar, Kung Fu Panda and How to Train Your Dragon.
Onboard our DreamWorks Experience ships, families and children of all ages are in for a treat with all of your favorite characters. From trivia, to scavenger hunts, to dining with your favorite character to themed family activities and more – we can't wait to fill your your cruise vacation with tons of adventure with the DreamWorks Experience.
JOIN US!
We hope you will join us on this awesome vacation experience. We love making memories together and traveling as a group is a excellent experience.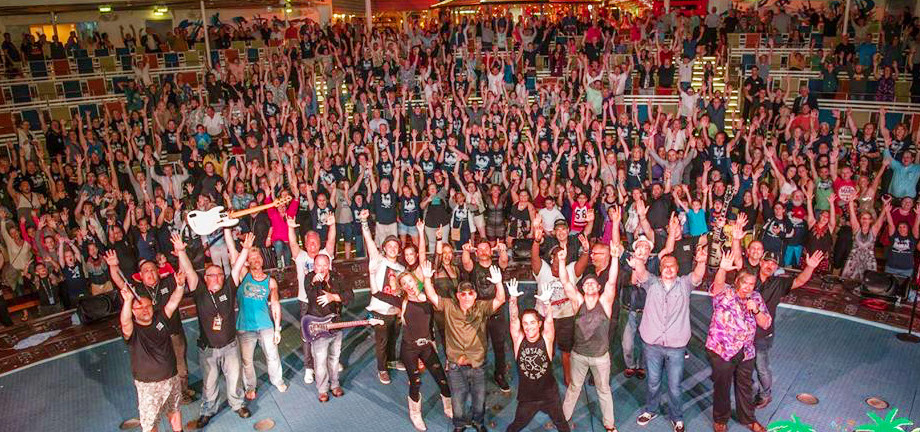 ©2019 CHICAGO MUSIC CRUISE
A Division of NTD Vacations & NTD World