Group I.D. - 6984926 - Chicago Music Cruise • Travel Agency - NTD Vacations
CHICAGO MUSIC CRUISE 2023- 8 NIGHT EASTERN/WESTERN CARIBBEAN CRUISE
Cruise Line: Royal Caribbean • Ship: Wonder of the Seas • Sailing from: Port Canaveral, Florida (Orlando)
NEWEST & LARGEST CRUISE SHIP IN THE WORLD
Ports of Call:
CocoCay, Bahamas (Private Island) • Nassau, Bahamas • Puerto Plata, Dominican Republic • San Juan, Puerto Rico • Labadee, Haiti (Private Island)
JANUARY 7, 2023 - JANUARY 15, 2023
COME SAIL WITH US AND HAVE A GREAT TIME!!!
This ship has 34 different room categories.
Most rooms will fall into 5 basic categories; inside, central park, boardwalk, ocean view, outside ocean view balcony.
There are suites that have 2 levels, virtual balconies, window rooms, 14 person rooms, etc.
WE WILL LOOK FOR THE CHEAPEST RATE ROOM FOR YOU, AND RE-ROLL YOU IF A PROMO COMES AVAILABLE BEFORE OCTOBER 1, 2022
THIS IS ONE OF MANY BENEFITS TO BOOKING THROUGH OUR TRAVEL AGENCY.
THESE GROUP RATE ROOMS WILL BE TAKEN FROM US AROUND SEPT 4, SO LOCK YOUR ROOM / RATE ASAP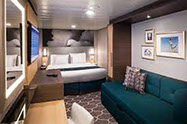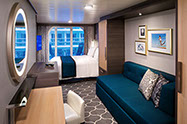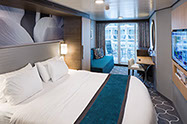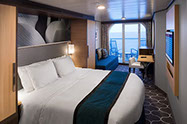 Inside (No Window)
4V - $866
2V - $884
Ocean View
4N - $1,034 - 11 Left
Central Park Balcony
2J - $1,109
Boardwalk Balcony
2I - $1,239
Ocean View Balcony
4D - 1,239 - 18 Left
2D - $1,309 - 9 Left
ADD $141.67 IN TAXES AND FEES FOR EACH PERSON
If you like us to price out a room that is outside these 4 categories, or has 3/4 beds, just ask and we'll price it out for you.
Rooms will be available based on the supply/demand; and we have limited space at these rates.
BOOKING IS $250 DEPOSIT PER PERSON - FINAL PAYMENT OCTOBER 1, 2022.
Once you are you are booked, your room and rate are locked.
Air is not included
If you have a Crown & Anchor Number, please let us know.
©2022 CHICAGO MUSIC CRUISE
A Division of NTD Vacations & NTD World